Description
Nutrivein Whole Food Multivitamin - Complete Daily Vitamins For Men and Women From Natural Whole Foods - 30 Day Supply (120 Capsules, Four Daily)
Usage
100% Of Your Daily Recommended Dose From Natural Sources:
Vitamins C, D3, E3, B6, B12
Thiamin
Riboflavin
Niacin
Folate
Biotin
Pantothenic Acid
Iodine
Zinc
Selenium
Copper
Chromium
Molybdenum
---
Everything Your Body Needs For Both Men and Women
Nutribein's Whole Food Multivitamin has been specially formulated to include all of the micro and macro nutrients that the human body needs, both for men and women. We've built a blend of vitamins that boosts your immunity, promotes bone health, and enhances your energy so you can live life to the fullest.

100% Natural Whole Food Sources
Unlike traditional multivitamins with synthetic compounds made in a lab, we've sourced all of our ingredients from concentrated whole food fruits & vegetables whose names you would recognize from the grocery store, like Cherry, Rice Bran, Guava, Sunflowers, Beets, Carrots, etc.

Includes Enzymes and Probiotics for Gut Health
Our Whole Food Multivitamin combines the benefits of a nutrition focused multivitamin with the enzymes and probiotics you need to maintain a healthy gut with a balanced microbiome, supporting digestion, weight loss, and boosting your immune system. Includes Protease, Amylase, Lipase, B Laterosporus, L Reuteri

Buy With Confidence
When you buy our supplements you can be confident that you're getting exactly what's on the label in its purest form.

Our Manufacturing Facilities Are:
• Located in the United States
• FDA Registered & Inspected
• Good Manufacturing Practices (GMP) Compliant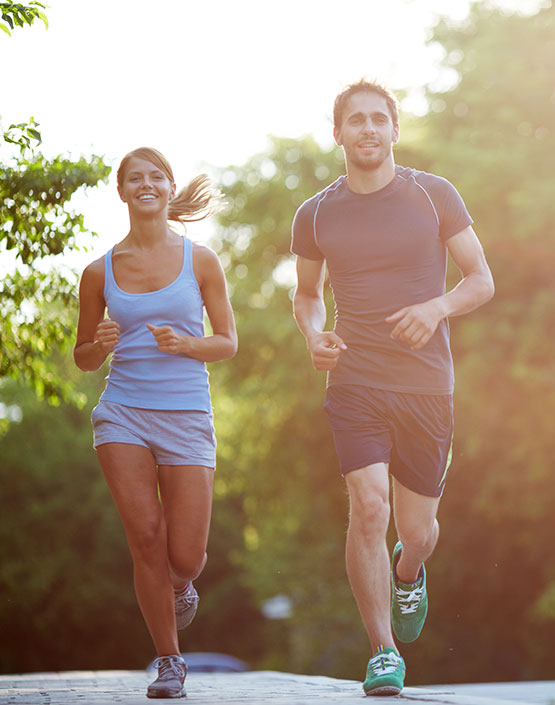 ---
What's Inside Our Whole Food Multivitamin?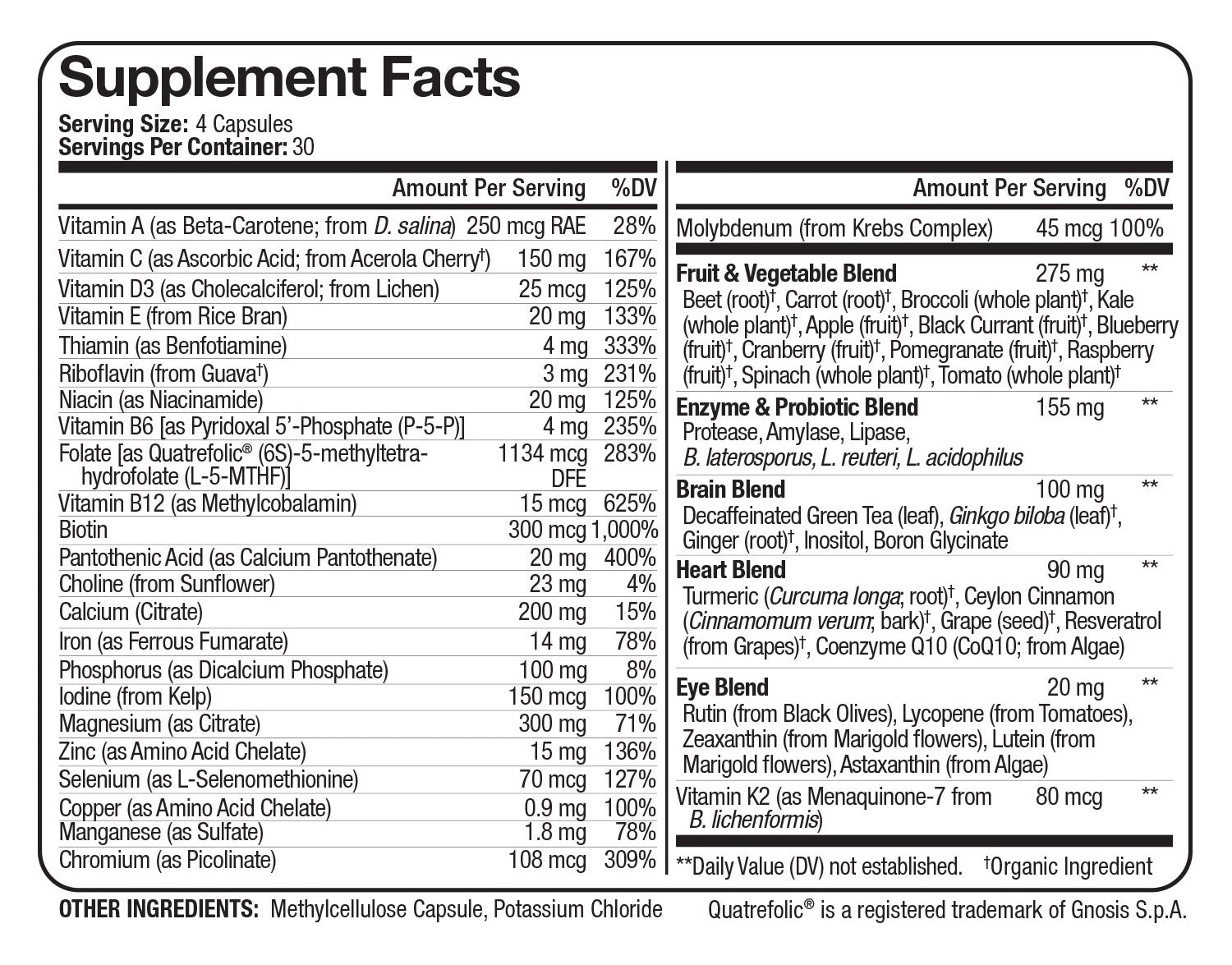 EVERYTHING MEN AND WOMEN NEED
Scientifically balanced & Formulated supplement containing all the micro/macro nutrients, minerals, enzymes, probiotics & omegas that your body needs to maintain your health and wellness.
WHOLE FOOD SOURCES & NUTRITION
We've built a superior multivitamin from 100% fruits & vegetables you would find at the grocery store or in your garden, without chemicals or synthetic lab-created ingredients, so you can be confident that what you're putting into your body came straight from mother nature.
ENERGY, IMMUNITY & BONE HEALTH
Our Multivitamin is specially formulated to enhance energy, boost immune system and promote bone health. We provide 100% of your daily recommended dose of Vitamin C, D3, E, B12 along with Thiamin, Riboflavin, Niacin, Folate, Biotin, Pantothenic Acid, Iodine, Zinc, Selenium, etc.
MULTIVITAMIN WITH PROBIOTICS FOR GUT HEALTH
We've blended a balanced multivitamin with enzymes and probiotics for a healthy microbiome and superior gut health, which is where a traditional multi vitamins miss out.
ALLERGEN FREE & GUARANTEED SATISFACTION
Our advanced organic formula is 3rd-party tested, Made in USA, FDA & GMP-certified facility. Our supplement is 100% natural and contains ZERO binders, allergens, stearates, dioxides, lactose, artificial ingredients or preservatives. You'll be completely satisfied or we'll gladly refund your money. 90 Capsules - a 30 day supply with a recommended dose of 3 non-chewable pills daily. For Adult Men and Women.
---
FOUR capsules per dose?
The vitamin content seems comparable to other wholefood multi-vitamins I've seen, but in four capsules not two, or even one as I have seen, which makes for more capsules to fill my pill minder and more capsules to, hopefully, properly swallow, So, a little good with a little bad. If the price stays down, I might continue with this brand, but anything near equally priced would probably have me go with the competition.
Complete multivitamins that are easy on the stomach
These multivitamins are packed with quality nutrients. Likes: - Arrived fresh in perfect condition. - Easy to swallow and easy on the stomach. - Complete nutrition. - Extra natural ingredients add variety and dilute them a bit.. They are very easy on the stomach to me, which isn't always the case with concentrated multivitamins (mostly when taken without food, which is not recommended). - 1+ month supply (take up to 4 per day.. I only take two so they last me two months). Dislikes: - No complaints. One caveat I guess is that the full dose is four capsules, because these include extra greens and powders beyond your usual multivitamin. Plan accordingly.
Great range of naturally sourced whole-food ingredients
Review of: **Nutrivein Whole Food Multivitamin - Complete Daily Vitamins for Men and Women from Natural Whole Foods, Real Raw Veggies, Fruits, Vitamin E, A, B Complex - 30 Day Supply (120 Capsules, Four Daily)** There isn't much to complain about with this multivitamin. For only $0.66 a day, you get a really wide range of vitamins, minerals, and other supplements, all sourced from whole foods. You may opt to add a few other select vitamins to increase the dose a bit (for example, the daily dose of vitamin C in these is only 150mg, a bit lower than the 500mg I prefer to take daily), but this is a great way to make sure you cover all your bases. And the fact that it is made in the USA at an FDA approved facility adds a bit of confidence in the quality. Great choice if you want a complete multivitamin in your daily routine.
Great Multivitamin
The product was received a day earlier than expected so that was nice. The bottle says to take 4 capsules per serving but since I'm basically a healthy person and also take other supplements, taking only two per day seems to work fine for me. I have increased energy and I'm sleeping better at night. Will buy again.
A solid whole food based multivitamin with excellent dosing
This is an excellent multivitamin from a daily dosing standpoint, and the amount of vitamins and minerals covered. I like the whole food approach to this multivitamin; and, there aren't any sneaky additions to the ingredients to make me question the overall quality. Really, the only issue I have is the amount of pills that are suggested per day. 4 pills a day is a bit much, especially for those who struggle with pills. I'm sure they could have cut the amount of pills down to 2 per day. Outside of the amount of pills suggested per day, I don't have any other negative views about this multivitamin. Recommended
---