Description
Powerful Support for Heart Health
Nutrivein Citrus Bergamot is a natural aid for maintaining heart health.
Usage
Commonly Used To Maintain:
• Circulatory System
• Normal lipid levels (HDL, LDL & Triglicerides)
---
MAINTAIN PRIME CARDIOVASCULAR HEALTH: Citrus Bergamot supports heart health and circulatory system, helping your body maintain normal fatty lipids and the pressure of the circulatory system. Bergamot Polyphenol Fractions (BPF's) support healthy LDL and Triglyceride levels, and boost the good HDL fats.
SUPPORTS HEALTHY GLUCOSE LEVELS: Nutrivein's powerful bergamot citrus essential oil extract supports your endocrine system's ability to regulate and maintain healthy glucose numbers
NATURE'S ANTI-INFLAMMATORY ANTIOXIDANT: Our high quality bergamot citrus fruit oil supplements are rich in phytochemicals and citrus bioflavonoids. Phytochemicals are nature's anti-inflammatories and Anti-Oxidants regulating your body's inflamation responses to maintain joint health & circulatory pressures.
NATURAL & ORGANIC HEALTH SOLUTION: Our formulation is from organically grown citrus essential oil harvested from Bergamot fruit grown in Italy and Refined in the USA. This supplement contains only natural ingredients.
ALLERGEN FREE & GUARANTEED SATISFACTION. Our advanced organic formula is 3rd-party tested, Made in USA, FDA & GMP-certified facility. Our supplement is 100% natural and contains ZERO binders, allergens, stearates, dioxides, lactose, artificial ingredients or preservatives. You'll be completely satisfied or we'll gladly refund your money. 60 Capsules - a 30 day supply with a recommended dose of 2 non-chewable pills daily. For Adult Men and Women.
Blood pressure affects more than your heart. High blood pressure has damaging effects on many areas of the body, including your eyes, kidneys, and the heart. Nutrivein is a natural supplement that can help you maintain healthy blood pressure and cholesterol/lipid levels.
Our Manufacturing Facilities Are:
Located in the United States
FDA Registered & Inspected
Good Manufacturing Practices (GMP) Compliant
---
What's Inside Our Citrus Bergamot 25:1 Bergamia Extract?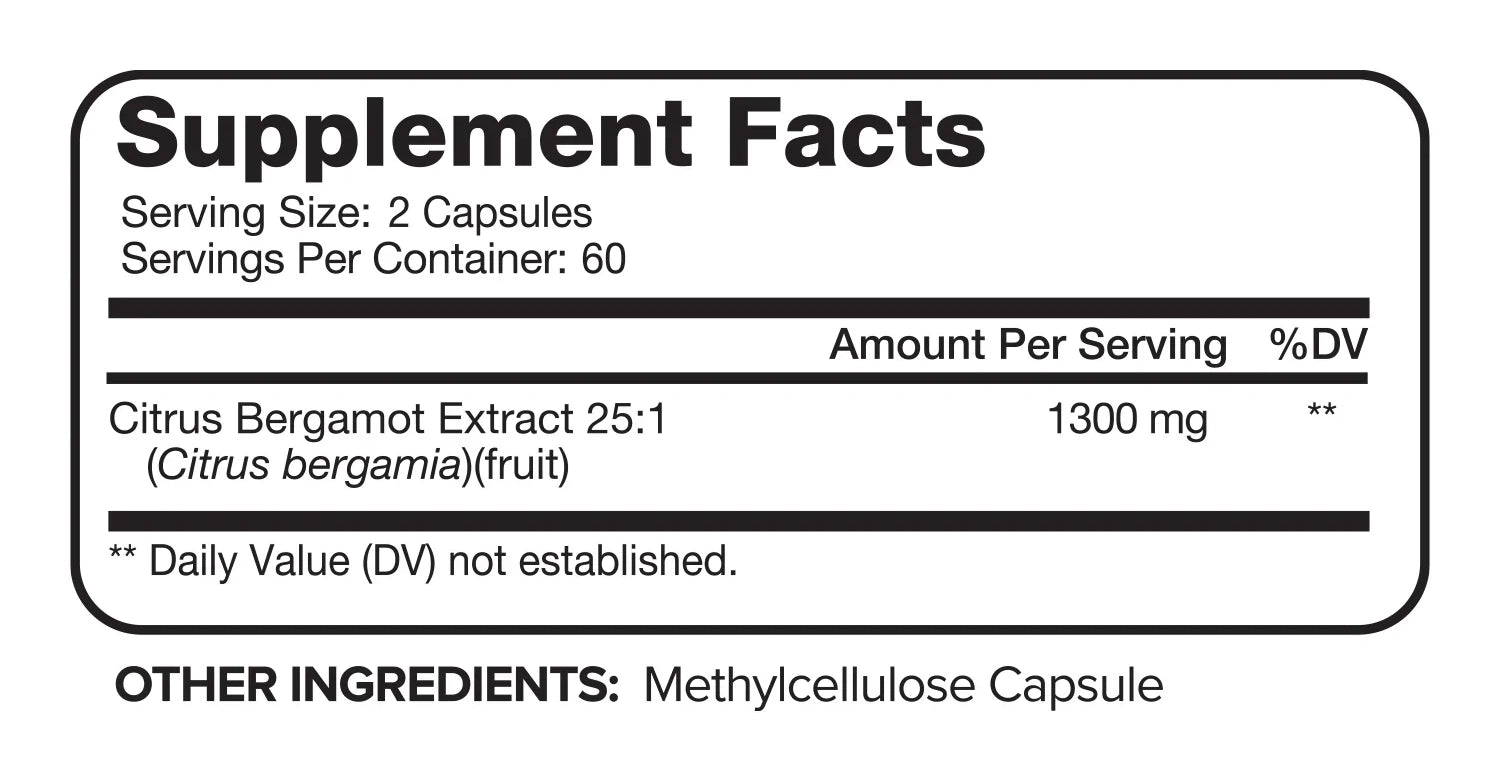 MAINTAIN GLUCOSE
Nutrivein Citrus Bergamot dietary supplement supports healthy glucose levels in the body.
POWERFUL ANTIOXIDANT AND ANTI-INFLAMMATORY
Each bottle of Nutrivein Citrus Bergamot is packed with potent antioxidants and anti-oxidant properties. These nutrients help strengthen your immune system, protecting your body from the negative effects of free radicals. Antioxidants also help lower your body's inflammation level, reducing the discomfort that is often associated with day-to-day activities.
BUY WITH CONFIDENCE
When you buy our supplements you can be confident that you're getting exactly what's on the label in its purest form.
---
---