Description
Nutrivein Organic Sea Moss Is a Superfood With Multiple Benefits
Our Organic Sea Moss with Bladderwrack & Burdock is loaded with vitamins, minerals and micronutrients. Sea Moss is a natural, organic way to keep your body functioning at optimal performance.

Easy to Consume
You don't have to make noodles, shakes or smoothies that don't really taste good to get all of the benefits of Sea Moss. Just take two easy to swallow capsules daily for optimal absorption and effectiveness


Usage
Boosts The Immune System
Powerful levels of magnesium, Vitamins A & K, and phosphorus keep your immune system in fighting condition, ready to come to your bodys defense.

Aids in Digestion
Sea moss is one of the best, natural sources of fiber. It's the good kind of fiber that turns to a soft-gel when digested. It feeds the good bacteria that are essential to gut health, and lubricates the gastrointestinal tract to help your excretory system work smoothly and regularly
---
 Benefits of Nutrivein Organic Sea Moss:
Bolsters Thyroid function with Iodine (without the salt!)
Encourages prenatal brain development with Folate
Delivers a feeling of fullness and boosts metabolism
Supports the mucus membranes in the Respiratory System
Assists the Body in dissolving phlegm in clogged airways
Boosts Your Mood with Magnesium & Potassium These statements have not been evaluated by the Food and Drug Administration (FDA). This product is not intended to diagnose, treat, cure, or prevent any disease.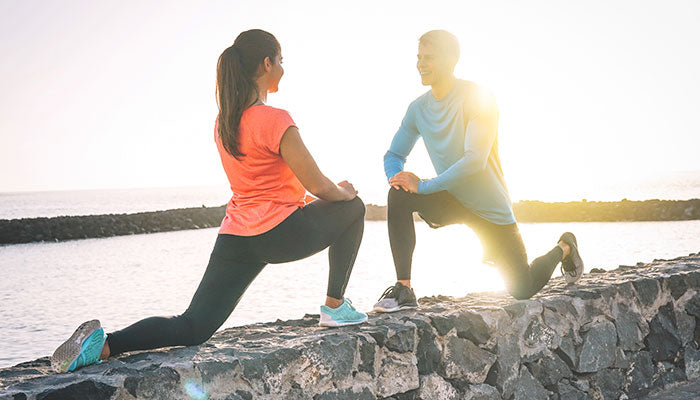 ---
How To Use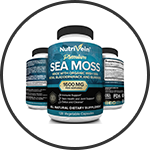 Step 1
Open Sea Moss Capsule Bottle!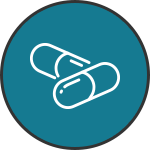 Step 2
Take two veggie capsules daily (morning or night), preferably with a meal and water, or as directed by a healthcare professional. The capsules can be opened, if needed.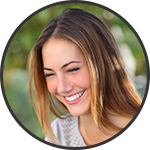 Step 3
Enjoy maintaining a happy and healthy lifestyle!
---
About Our Sea Moss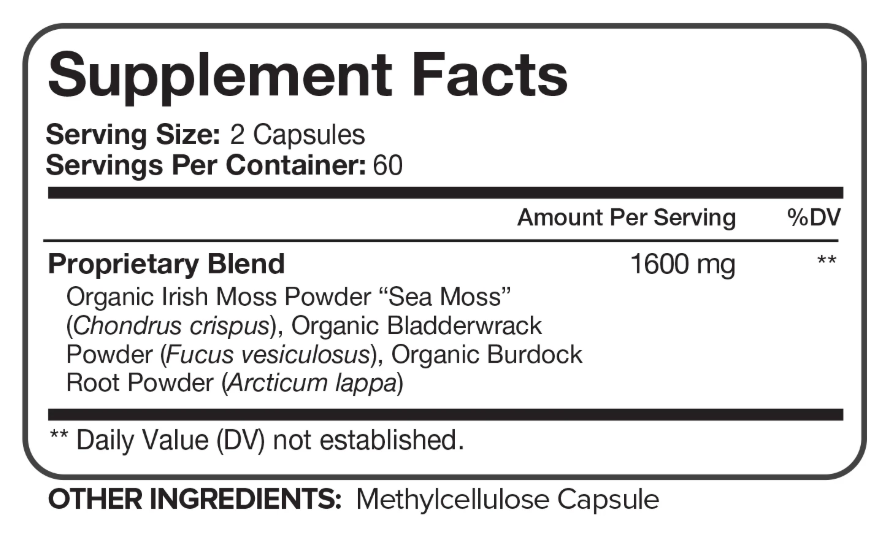 IRISH SEA MOSS BOOSTS THE IMMUNE SYSTEM
For hundreds of years seamoss, a type of red algae sometimes known as Carrageen, has been used to boost the immune system, which defends against the common cold and other infections. Sea Moss is loaded with magnesium, phosphorus, Vitamin A, Vitamin K, and Omega-3 Fatty Acids - All vitamins and minerals that the immune system needs for optimal function. It's also a great source of Iodine, a thyroid booster, without the negative effects of eating salt
DETOX AND CLEANSE YOUR BODY NATURALLY
Sea Moss botanicals supports and encourages proper digestion by feeding the good probiotic bacteria in your stomach and maintain gut health microbiome. Improves digestion, heals the guts lining, and helps expel harmful bacteria.
IMPROVED MOOD AND ENERGY LEVELS
Our Sea Moss contains significant amounts of riboflavin & folate which are known as Vitamins B2 and B9. Folate is also an essential prenatal vitamin, and when combined with B12 promotes red blood cell creation. It also delivers potassium and magnesium nutrients, known mood boosters that play an important role in healthy brain function and improved focus
RICH SOURCE OF FIBER TO MAINTAIN REGULARITY , IMPROVE DIGESTION & INCREASE METABOLISM
Our Irish Sea Moss is a mucilaginous powder superfood supplement that turns to a soft-gel consistency during digestion, helping you feel full while easing the movement through the digestive system and GI tract/bowels. Sea Moss is similar to other highly recommended fibers like chia seeds, flax seeds and aloe. Great for all of your body's mucous membranes, including the respiratory system.
ALLERGEN FREE & GUARANTEED SATISFACTION
Our advanced organic formula is 3rd-party tested, Made in USA, GMP-certified facility. Our supplement is 100% natural product and contains ZERO binders, allergens, stearates, dioxides, lactose, artificial ingredients or preservatives. You'll be completely satisfied or we'll gladly refund your money. 120 Capsules - a 60 day supply with a recommended dose of 2 pills daily. Safe for Kids and Adults, for Men and Women of All Ages. Description: Nutrivein Organic Sea Moss Is a Superfood With Multiple Benefits Our Organic Sea Moss with Bladderwrack & Burdock is loaded with vitamins and minerals and micronutrients, Sea Moss is a natural, organic way to keep your body functioning at optimal performance. Easy to Consume You don't have to make noodles, shakes or smoothies that don't really taste good to get all of the benefits of Sea Moss. Just take two easy to swallow capsules daily for opitmal absorbtion and effectiveness Boosts The Immune System Powerful levels of magnesium, Vitamins A & K, and phosphorus keep your immune system in fighting condition, ready to come to your body's defense. Aids in Digestion Sea moss is one of the best, natural sources of fiber. It's the good kind of fiber that turns to a soft-gel when digested. It feeds the good bacteria that are essential to gut health, and lubricates the gastrointestinal tract to help your excretory system work smoothly and regularly
---
Great product
Great product, great price, and a good deal, because most places charge way more for sea moss and for so many capsules, definitely going to buy again.
Nutrivein Organic Sea Moss 1600mg - 120 Capsules
alternative to sugary drinks
Love it. I felt the healing benefits the first day I consumed it. Really healthy and pure. No fillers or artificial ingredients. Thumps up.
Nutrivein Organic Sea Moss 1600mg - 120 Capsules
---
Buy With Confidence When you buy our supplements you can be confident that you're getting exactly what's on the label in its purest form.
Buy With Confidence When you buy our supplements you can be confident that you're getting exactly what's on the label in its purest form.